Well, so far you've seen mainly fantasy and sci-fi miniatures from me. Oh, and zombies*. All in 28mm.
Not this time...
Yesterday, the third day of Christmas (a.k.a. the Thank-Cthulhu-it's-finally-over-Day) I painted a batch of 20mm Deutsches Afrika Korps. They're a project I haven't worked on for nearly a decade, but my recent introduction to the PC game War Thunder has rekindled my interest. Plus they form a nice breather for my (currently main project) fantasy stuff, as they paint up quickly. This whole batch was done in a single day (including drying time for washes and sleeping in a bit), where I take at least two days, or more, for a batch of fantasy figures a quarter this number.
Here they are: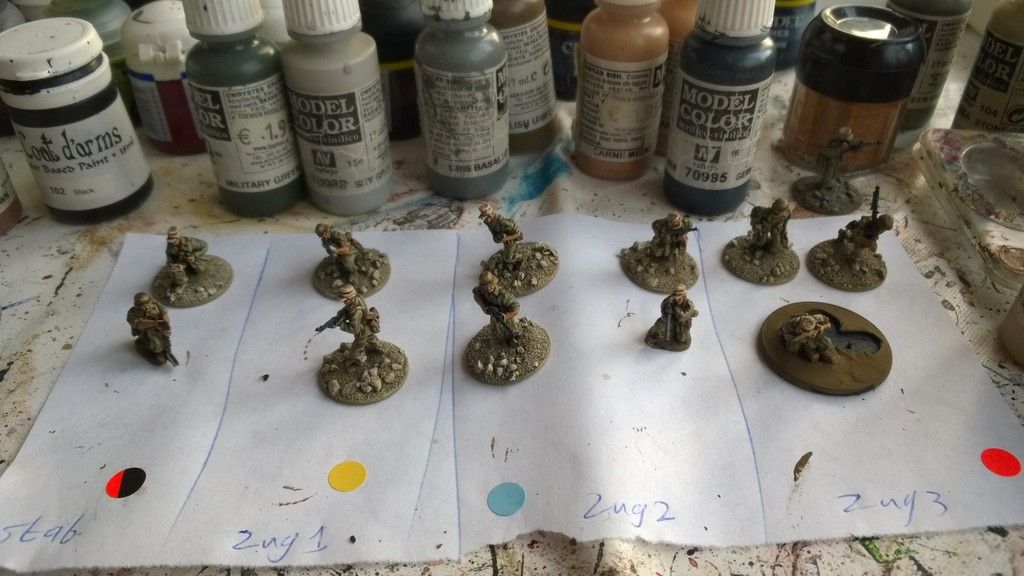 In case you're wondering, the minis without bases, and the one on the big, untextured base are parts of LMG teams. I've kept them apart to acces all the nooks and crannies while painting. Once all members of a team are done, I'll glue them to their base and texture + paint it. The metal on the guns is left flat grey for now, once the whole platoon is done, I'll rub them with some graphite (in other words, pencil) to give them a metallic sheen.
They're on the piece of paper to keep them organised, as I'm painting the basic infantry of the platoon and its command group combined over several batches. Each figure needs to go back to it's own squad after painting!
The reason I'm doing mixed batches like this, instead of a whole squad at a time, is because I custom mix several colours and highlights each time. As a result I get a natural variance in the exact tone of colour in each batch. By spreading the batches among all infantry, I use what would otherwise be a hindrance to replicate the effect of all uniforms bleaching at different rates and in different manners, making the units as a whole seem more realistic. :)
Here's a close up of one of the command group members checking either his tactical map, or the assembly guide for his Ikea flat-pack summoning circle:
(The mini is based on a 20mm washer, for size reference. So the above picture is several times life-sized, depending on your monitor size and resolution.)
What are my plans for this? Well, I have this platoon of infantry to paint, plus assemble and paint their Protze transports. And there is the rest of the box I've collected nearly a decade ago, which includes the remaining vehicles of a small recce group (consisting of a Sd.Kfz. 232 (8rad) Funkenwagen, two Sd.Kfz. 222s and a looted Humber), some PaKs and 8.8s plus tows and some Blitzes to haul supplies. A leichte and mittlere Panzerzug (I already have the Panzer I to function as the command vehicle for the leichte Panzerzug) are on the wishlist to add sometime, as well as a Diane or two.
And I want to add some Weird War war eventually as well (Some Gear Krieg style walkers, as that setting got me thinking about doing WWII in the first place. I have a 1/72 Maus that I can add a turret or two to, making it a "Panzerlandschiff".) But that is still far away, I'll need to get the basics done first. Hopefully it'll take less than 10 years....
See you next time!
*: Which could be classed as modern, post-modern, sci-fi or post-apocalyptic/peri-apocalyptic. ;P