Wow, it's been a month already?
The annual busy period at work has reduced my time and energy available for hobby stuff. That isn't to say I've been totally idle, but that nothing has progressed enough to take new pictures of. The first Necromunda terrain piece is still PIP, although the airbrush stages are past. I need to get the thing on the painting table for some good old-fashioned brushwork.
The Goliath gang is primered and ready for paint. The Escher have seen a tentative start at building them.
I've packed away my airbrush kit, partly because I needed a change of pace, partly because my mate's airbrush finally arrived and he reclaimed the set of airbrush paints I was borrowing from him. I need to build up my own stock of airbrush paints.
Also, I needed to clear the workbench because I wanted/needed to do some woodworking again.
I'm making a set of pushsticks for a friend who got a tablesaw for his birthday last fall, as well a cupholder as a (very) belated birthday gift for another friend. My plan for the coming year is to alternate woodworking and wargaming/modelling a bit more because, honestly, between work and hobbies, I'm getting a bit fed up with just sitting on my ass all the time.
With Necromunda having run out of steam a little bit, and me needing to relax after work, I've picked up playing The Witcher 3 again. I find it quite relaxing to just explore and slay (or be slain by) the odd roaming monster. Which naturally has me thinking about fantasy gaming again. Also I needed a break from all the worn-out tech that has been a main feature of my hobby efforts lately (between Necromunda and Gasland).
So, I've been looking at my tray of primered fantasy figures once more, as a palate cleanser and to get back into a rythm of painting again.
Today, I painted a trio of Wraiths. These Wraiths are converted from GW Empire Flagellants and based on the ones found in, unsurprisingly, the Witcher: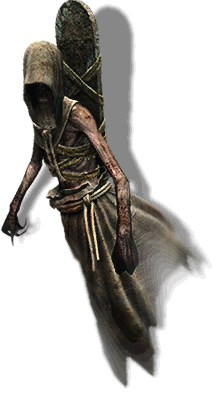 And here's my interpretation:
*: In fact the
Pavesiers/City Guard
I painted more than a year ago take their heraldry from Rivia, a small kingdom in the Witcher world....
See you next time! Don't get bitten by a Domovoi!